Photographer Snaps Grand Canyon Wedding Proposal, Wants To Give Pic to Them – Newsweek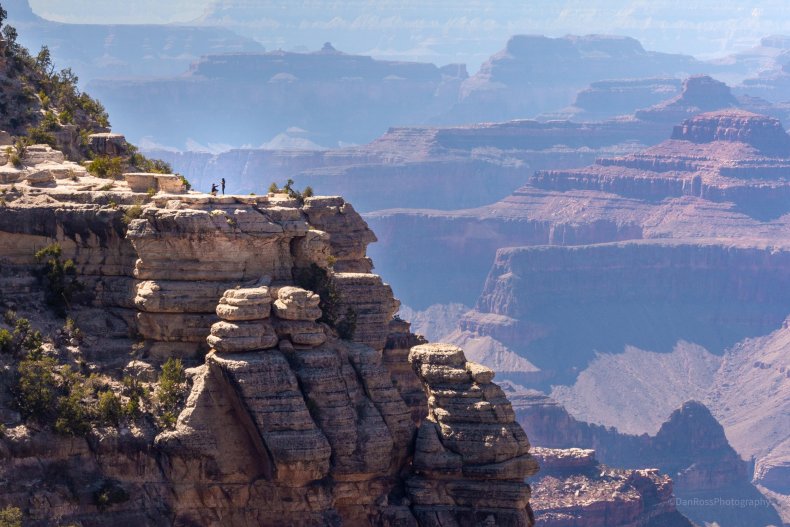 A photographer is looking for the happy couple they inadvertently captured while taking a landscape photo at the Grand Canyon.
Redditor u/Fivafish posted their photo on Tuesday, explaining that they would love to give the couple the picture they took as one member of the couple proposed. Though u/Fivafish has so far received over 70,600 upvotes and 1,400 comments, so far, the couple remains unidentified.
In the gorgeous photo, the Grand Canyon sprawls out—but on one of the cliffs, a couple can be seen with one person down on one knee, presumably proposing—and not doing a ridiculous prank "proposal".
In their attempts to find the couple, u/Fivafish provided more information about the picture. They also granted Newsweek permission to run the photo. The shot was taken on May 25, at about 3:30 p.m.
"We were around the South Kaibab trail, technically on the Rim trail at the south rim. I think this is looking out to Mather or Yavahai point," u/Fivafish wrote, adding that they were along the South Rim.
In other comments, u/Fivafish revealed a little bit more information about the surprise proposal.
"I was taking specifically using a wide angle lens and trying to line up a landscape shot. Then this happened and I thought it was a great composition," u/Fivafish wrote. "I didn't clock the exact pose until afterwards when I was processing the photo, I just saw a couple on the rock. It was very serendipitous."
Though thus far, u/Fivafish has been unable to find the happy couple, other Redditors are helping, looking on Instagram to see if they can find other—closer—pics of the actual proposal. One user said they found "about" six proposals at the Grand Canyon on Instagram posted since May 25, but none were the right couple.
There was a false alarm when another Redditor posted 10 days ago about wanting to propose at the Grand Canyon—but they confirmed that the photo wasn't them, as their proposal hadn't happened yet.
"I hope you have some random guy photographing you unknowingly from another rock," u/Fivafish jokingly responded.
The Grand Canyon is a popular proposal point, and the Grand Canyon Resort even offers special proposal packages for happy couples, as does Arizona Destination Management LLC. Another company, Papillon, even offers a proposal package with a private helicopter trip leading up to the popping of the question.
When planning a Grand Canyon proposal, Saaty Photography recommends hiding the ring to make it an even bigger surprise, privately asking for advice on the perfect location at the Canyon for a proposal and, depending on how big of a deal the couple wants to make it, even booking a band to come out afterward.
Newsweek reached out to u/Fivafish and the Grand Canyon Resort for comment.