We are in a 4×4 driving through long grass on a bit of land that was once at the bottom of the North Sea. Drained in 1968, this landscape forms part of the world's largest artificial island, home to Oostvaardersplassen, one of Europe's most controversial and influential rewilding projects.
Herds of free-ranging horses, white-tailed eagles, cattle egrets, high-speed trains, planes, powerlines, wind turbines and the city skyline of Almere all fit in a single frame. It is 7,500 hectares (18,500 acres), roughly the size of Manhattan, and 30 minutes' drive from Amsterdam. Everything you can see is less than 50 years old.
Like beavers, the Dutch dried out this land by building a huge network of dams. The site is up to five metres below sea level, flanked by miles of intensive, flat farmland and two new cities. Hans-Erik Kuypers, the park ranger who is showing us around the reserve, turns off the engine and birdsong enfolds us.
It is sometimes referred to as the Dutch Serengeti, and there is a cacophony of rare meadow birds – bluethroat, reed warbler, willow warbler and Cetti's warbler – all belting out their song. Two weeks ago there was a hoopoe. The wildlife sounds grateful for this little slice of manufactured wilderness. "You could imagine people thinking there's nothing here," says Kuypers. "It's about listening, not looking."
In the flat distance are little black spots that look like mites but are herds of cows and deer. These herbivores are acting as ecological tools, helping maintain vast wetlands and grasslands that support these rare birds.
We pass through a herd of about 250 Konik horses busily trying to attack and mate with each other. Open cuts are testament to the power struggle. Males are not castrated, because it is believed that testosterone is key to creating these interesting group dynamics. "Everything that happens here is a play for dominance and reproduction. They need to express their natural behaviour," says Kuypers.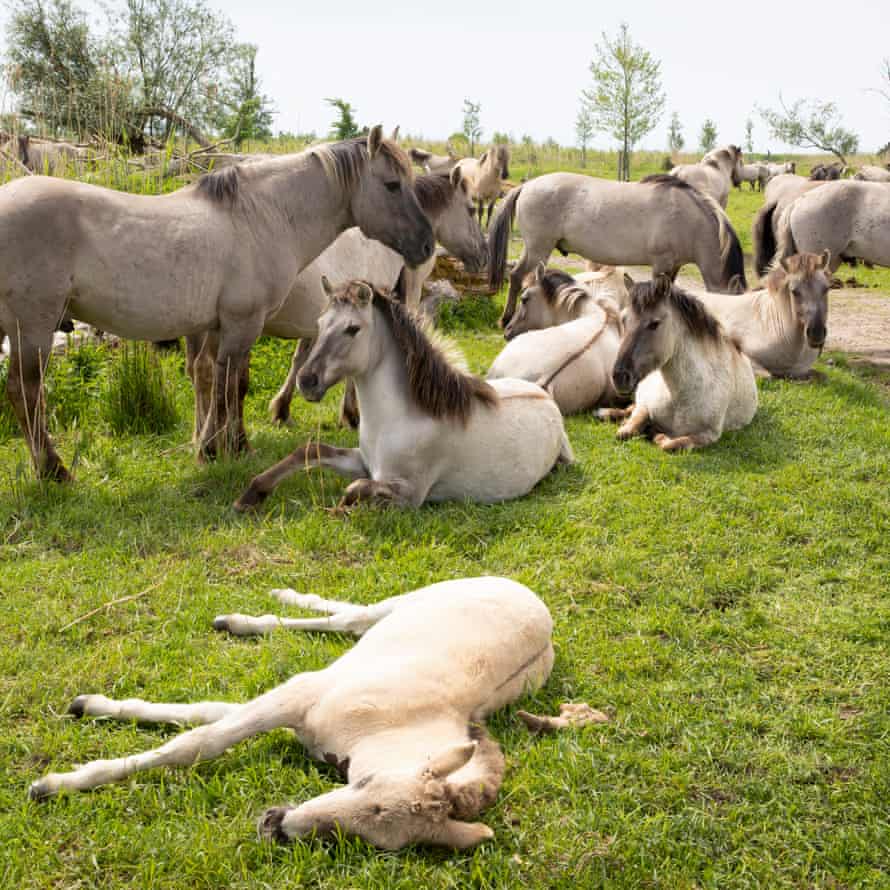 This herd of horses is alive and healthy, but many of their predecessors here starved to death or were shot. Oostvaardersplassen was embroiled in scandal after thousands of cows, horses and deer died during the winter of 2017-18 because the founders of the project believed that nature should govern, and starving to death was considered a natural form of population control.
Numbers fell from 5,200 to 1,850 that winter, with 90% of animals shot before they starved to death. There was widespread outrage and the founders received death threats. "It was a terrible time," says Kuypers.